Sunbathing on the terrace I live in a large German city in the Ruhr area in a terraced house in a condominium. Last summer it was like sitting comfortably on my terrace on a hot Sunday and treating myself to a piece of cake and a fresh coffee. Up here on the top floor you have a wonderful view of the Ruhr. And not just that! For me it is absolutely normal to be naked here in my own four walls.
I love the sun on every inch of my skin! As I approach the railing to have an even better view, I can see my beautiful neighbour on the terrace below , basking on a sun lounger on her stomach. She has taken off her bikini top so that there are no stripes. But now I watch as she slides her hand under her body and spreads her legs. She will probably not…. Oh but! She does it! Every now and then she lifts her bottom slightly and plays with her pussy .
I almost think I'm dreaming when she gets up briefly to take off her panties too. She is already lying on her stomach again and continues where she was before. With her legs still further apart I can look at her cunt unhindered and hear her moan. But that's not all I experience today! Because suddenly she turns on her back and puts a shirt over her head.
What a beautiful body! Even when lying down, her sweet little tits stand up tight, the exceptionally long nipples protrude stiffly into the warm summer air. And she's still fingering her super smoothly shaved cunt! Of course, the sight of me is already an alarm. My stand is stiff and firm! Mandy, that's the name of the beautiful lady, doesn't notice it because of the shirt on her head. Only after she has obtained audible relief does she sit up, puffing, and remove the shirt from her head.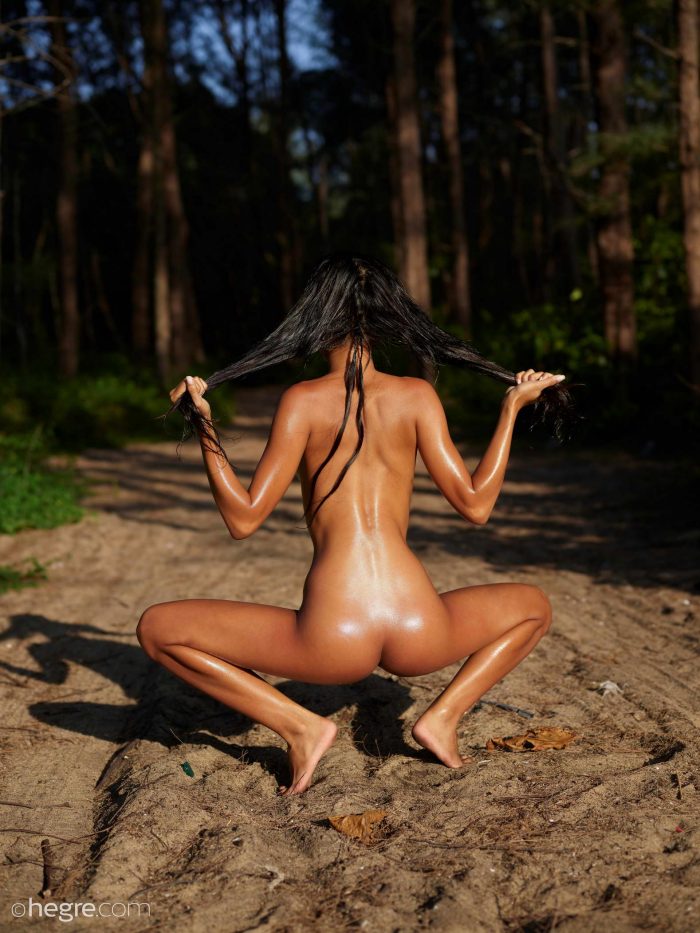 And then she looks up, embarrassed. "Hey you little guy … good program today?" She asks. There is a mixture of excitement and reproach in her voice. "You could say that, Mandy. Don't you like to come up to me? "" And then ?? "she asks back. "And then let's have a look" I answer boldly. She gets up and goes in. A minute later my doorbell rings. "Here I am …" she says in a slightly shaky voice. She is wearing a light dressing gown and flip-flops.
"Well then, come in with you. I've already put a second plate on the table outside. Piece of strawberry cake? Coffee? "I ask. "Good idea" she replies and we go out onto my terrace. In my swim shorts, which I quickly put on, it's still busy. I have just served us the strawberry cake, and she gets up again. "You don't mind, do you?" She asks and takes off her dressing gown. Underneath is … NOTHING but bare skin! Apparently she got her action on the terrace really hot.
"You're right, clothes are totally overrated," I counter and bang, my shorts are on the floor. "Oops … there is one lively" she says with a look at my tail bobbing up and down. I will put it this way … the strawberry cake no longer looked so nice and I was able to make the coffee again when we sat down again! Because Mandy got really hot! If I had known what a gifted flute player she is, I would certainly have met her sooner! But better late than never! In any case, the next half hour went really brilliantly! Mandy crouched in front of me with his legs apart and put the finishing touches to my wand! Madness, and that longing look up into my eyes! My big friend was sometimes no longer to be seen, she pushed my cock that deep into her throat, which is remarkable at a proud 24 cm! "Do we need a rubber band?" She asks nervously,
"So I am healthy, only regularly tested last week," I answer and already stand behind her. "The day before yesterday I only went to the gyn for a check-up. Everything was clean," I hear her croak. My cock is already pushing itself between her thighs, which will openly open. A little jerk and I am immersed in her damp paradise. Oh man, this woman absolutely does not care if someone might be watching or if they had perked up their ears! She gasps and moans with full soul! "Put it in deep, Thommy.
I need that now! "She whispers to me and gets down on all fours. Indeed, in this position it goes even further in! Much to Mandy's delight! It doesn't take her long to let her pent-up lust run free! Just as I pull her head up by the hair, a gigantic wave of pleasure collapses over her and makes her squeak quite loudly! "More … fuck on … it's a shame that you are alone …" "Just stay like that …" I answer and pick up the cell phone.
Get up Mandy
Peter downstairs from the EC should actually be at home. "Get up Mandy, my doorbell will ring soon. YOU will open ". She looks at me puzzled and reaches for her dressing gown. "Didn't say anything about getting dressed .. You stay naked!" "But .." she starts. "Nothing but! You open it naked and that's it, I slam back. The doorbell already rings. "Peter? What .. "she doesn't get any further. Because Peter grabs it immediately and puts it over his shoulder.
After a few steps he comes out onto the terrace with the naked Mandy. "Look Thommy, who I found there! I think… there's a lot of fun, "he exclaims! "Well, yes! I've just nailed her before. And how she crowed for more … now you are there. Come on, take off your clothes and then let's continue fucking her! "Within a few seconds he took off his shirt and shorts and two cocks were dancing around in front of the now kneeling naked Mandy.
"You horny bucks … wait! I'll finish you off! "Sounds Mandy and starts with Peter. I pull her on all fours and push my bar right back into her. "Uhhh…. grrmmpffff… you horny bucks… uhhhhh "Mandy is in her element. One in the fuck mouth, one from behind in the cunt. The blows with the flat of the hand on her buttocks heat everything up even more! I now lay myself on the floor and pull Mandy back on me.
I sink my latte into her ass without warning! What an outcry! No, not because of pain, out of sheer lust! I pull her hair down a bit so that Peter gets even better access to her cunt. Because that's exactly where he is lifting his tight Max now! "Uhhhhhh …. jaaaaa… ..geiiiilllllll… .. fuck me, just crack me! And maybe someone can knead my tits? "Of course, yes! Peter takes care of that while leaning on one arm.
Within five minutes we give our horny neighbour two more orgasms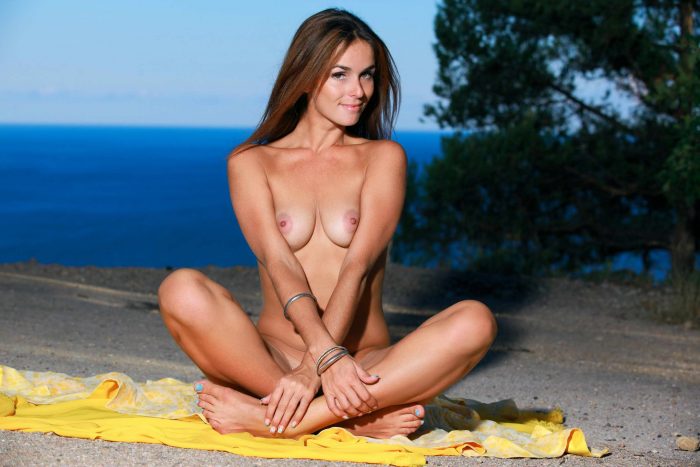 What a moan! Within five minutes we give our horny neighbour two more orgasms. Completely out of breath, Mandy then wants to lie down. "Don't lie down with anything … not yet!" Calls out Peter and pulls her into a crouch. Mandy understands immediately and does her best to take one of our cocks, but sometimes both of them, into her fucking mouth. She breathes mightily at the same time! Gurgles especially when one of us fucks her deep in the mouth! Peter is similarly equipped to me, so Mandy has her mouth full, but we don't want to cum yet! I quickly clear the table and lift her on it.
Alternately, each for five thrusts, we ram our lances into the dripping wet pleasure grotto. During the whole action we hard knead her grandiose tits and pull the already long nipples even longer! "Fuck me … really fucks me up …" you two horny sons of bitches … "The next two orgasms are due soon. Puffing, Mandy says "Hey, I need a break". "Do you get it … when you have swallowed our cream! So get on your knees with you! "I call out to her and pull her off the table.
Kneeling in front of us again, we alternately heave our slats into Mandy's wide-open mouth, push them deep into the throat, repeatedly exerting pressure on the back of her head so that our balls clap against her lips. This hammer woman is just awesome! She nicely allows to be fucked really rough in the mouth. The time has now come for Peter and me when we want to unload. I let Peter go first, but for my part I briefly go to the strawberry cake on the floor to decorate Mandy's piece a little! Should she get a treat afterwards as a reward! Peter roars like a stag as he shoots his considerable load in her face and neck! Then he just knocks them over.
Mandy's body twitches from time to time, but her moans gradually become quieter. "Well then come up to the table … there is still the strawberry cake for you