When I asked Eva about it, she just said, I shouldn't pretend, I could do that here. "I'm not looking away from you boy. You don't look any different than the other men I have already seen ". But … I looked different … at least for the moment. At the moment, my 19cm stand, which was rock hard, sticking up straight forward, would have made it very clear to her how my hormone balance reacted to the games and her body.
I grabbed the swimming trunks and the towel and moved between two larger bushes. I quickly took off my T-shirt, shoes and socks too, but the trousers were a piece of work. Bending over, sitting, lying down and on all fours, and above all, pulling like an idiot, it took me five to six minutes to get rid of my pants. When I stood on one leg and pulled the waistband at the bottom of one leg, I heard Eva shout "I can see your bubble butt, Jens!"
Startled, I jumped up, turned away, then looked back with my head behind the bush and just stuck my tongue out. There it was again, Eva's laugh. Standing in front of the grill, she bent her body a little bit, holding a hand half over her mouth and with all that you could admire her horny female figure through the wet swimsuit. I then had my pants down. After drying myself off, I was faced with the next problem, or much more, the next problem.
"Jens, what have you been doing for so long that food is ready soon. ". With these words she disappeared briefly into the house. What do I do when she sees it, and in the very wide, baggy shorts she will see it, then … then … then I had the idea. I quickly slipped into my pants, tied my waistband, ran over to the chair, sat down and clamped my splendid slat under my crossed legs. It was quite tense at the base of my tail, but the problem was now well concealed.
Eva came back with a tray, put a bowl with a pasta salad on the table, a stick of white bread, various grill sauces, plates and cutlery and two bottles of chilled alcopops. Mine had a lime flavor. She probably noticed that I like lime best. We enjoyed the food, the meat was really tasty and the pickled vegetables also tasted delicious, although almost all the paprika pieces were a bit burnt. The pasta salad tasted amazing because it had been brewing for two days.
There was nothing left. We sat full in our chairs, enjoyed our drinks and smoked … well, my last cigarette. Together. Eva's cigarettes were all and I, well, not that someone thinks I might be somehow forgetful. I had bought everything I wanted to bring with me, but somehow I must have forgotten the cigarettes. When passing the cigarette, Eva kept leaning towards me and I towards her. Every now and then I could take a look into the neckline of the slowly drying swimsuit and saw that the swimsuit had pulled a bit into Eva's pussy crevice in her crotch and thus exposed a little more hair on the side.
The black fur down there was quite extensive, but apparently well trimmed. Professionally, I assessed the length of the hair, significantly less than a cm and the shape, clearly triangular, but apparently nicely straight and horizontally trimmed at the top and tried to imagine the gap that opened up below. Between my legs there was a lot of tension again and when I leaned over to Eva I had to adjust my bar again and again. Eva was lying next to me on the couch and could see through under the table in the direction and I think that she did that from time to time.
Got Smile on her face
There was always a 'Ha! Got smiles on her face. The cigarette was then smoked at some point, and when Eva expressed it, she said "Come on, let's go to the pool again!" She jumped up, grabbed my hand, and dragged me out of the chair. Zero chance to fend off that, she pulled me up and at that moment, I still see it as a mental cinema, in slow motion. 'It flopped', my stand shot forward and the pants looked like a tent in which someone had just erected the first mast.
Stupid as I am, I stopped in fright and, of course, Eva hanging on my hand too. She turned around and gave me a startled, questioning look. I must have looked completely stupid, caught and mouthed. Then Eva looked down at me. Lingered with her gaze at my crotch for a longer moment while I could only stammer "I … I … Eva …". "I? I? Eva? Yes, I see you and I also see the flagpole in your pants and it probably looks that way because of Eva.
Are you telling me that? "She laughed at me. She pulled me with a "Boy! Come on! Into the water! "Again to the pool and we jumped in. I was somehow in shock, I was still pretty tense, but for Eva none of this seemed to be a problem at all. She didn't care. She continued with the water features and tried to submerge me, no, she submerged me quite often. Although I also dealt, I still felt somehow affected and caught and was out of the business.
I would have liked to have reacted just as easily as she did, but there was just a blockage. A wall. And somehow I didn't dare tear it down, or at least climb over it. Eva probably noticed that. She must have been blind if not. But said nothing. Maybe laughed a little less and our games became a little more listless, and also a little more aggressive and at some point it happens. Awkwardly, blocked by my acquired moral notions of my moral conditioning and less with the fun we could actually have had, I got hold of Eva by the neckline again and this time pulled harder.
Too fierce. Soaked in water, quite noiselessly, a small piece of fabric to which the strap was attached around Eva's neck tore through and when Eva came up out of the water and then stood in front of me, the upper half of the swimsuit floated on the surface of the water in front of her. A part of Eva's wet, long, brunette hair hid the sight that I had, but I could see Eva's big and impressive boobs in front of me.
I could not enjoy the sight casually, but in my pants I felt my latte twitch slightly upwards and I felt the fabric of the shorts rub against my glans. 'It's actually so cool with Eva, but that's not possible …' that was my thought that had me just now. Eva looked at me, looked down at herself for a moment, then up again and began to laugh heartily in my face again.
Suddenly I got a little laugh out of it, but I immediately suppressed it … Shit conditioning. Eva made no move to cover herself up in any way or to leave the pool to wear something else. She looked down at herself again, reached under her breasts, lifted them very slightly and then said "Yes, those are breasts? You've already seen some, haven't you? "She laughed at me. Another short, pressed laugh shot me out and a "Yes.
…Do I have. "Before I looked dead serious again. She played something with her breasts by raising and lowering them one by one. Looked at her bosom and then back at me. The laughter suddenly disappeared from her face and she looked at me a little more seriously, almost a little pityingly. Put your head on the side and said to me "You know what Jens. I think I have to pull the stick out of your beautiful ass ".
I was a little startled and saw her take a deep breath and dive right in front of me. Then I felt her tampering with the string of the shorts and before I could do anything, how she pulled the shorts down over the concrete-hard beating. I took a deep breath and wanted to take a step back, but immediately touched the edge of the pool, on which I instinctively supported myself and then suddenly I felt something very softly clipped over my erect cock floating in the water and the more it clipped over it, the more more my cock was massaged slightly further forward at the tip of something else soft.
She reappeared in front of me
I closed my eyes and wished, no, I still wish that this moment that I've only felt once in my life had never ended. It was only a few seconds, a few moments, then the soft something slipped down again from my twitching prick and Eva reappeared in front of me, rubbed her eyes dry, wrapped her arms around me and kissed me right on my mouth. Her head tilted slightly in front of me, she pressed her lips more and more tightly against mine, opened her lips and 'knocked with your tongue' so that I would open my lips too.
And the wall collapsed. Driven by the great tits, the underwater massage from my boner, the kisses, from the fact that Eva was pressing her big breasts tightly on my chest and knocking me with one leg underwater, pushing her again and again, so that my cock was intensely on Fabric and the little rough hairs, rubbed over and around her cunt, I just wanted to see one more thing … the other side of the wall! At first tentatively, then definitely, I loosened my arms from the edge of the pool and wrapped them around Eva.
Feast for Eva! Tilt my head a little to the other side as well, parted my lips and closed my eyes. Having to deal with things seen freed from the burden, my senses concentrated only on what I tasted, what I felt. The lips and tongues that moved through our throats, the breasts that stuck to me, my cock that rubbed Eva's crotch and I smooched Eva, now pressing one of my hands behind her head as hard as I could.
The other hand slid under the swimsuit over her bum and now I rubbed Eva more and more over my hard cock myself. Heaven … that's how I imagined heaven. And we rubbed each other harder and harder. Eva reached down with one hand between her legs, stretched the fabric away from her in her crotch, fished her fingers for my latte and finally clamped it under the fabric so that I was now directly on her fur rubbed and the tip of my tail penetrated again and again easily into the fold of her labia.
I heard a slight moan from Eva's mouth as long as we rubbed against each other and we rubbed each other for a long time. Long and firm. At some point Eva wrapped both arms around my neck and pulled herself a little higher. Now my cock could reach all the way back to her crevice while rubbing pussy and almost penetrate … penetrate Eva. Eva took a liking to what could be seen in a gentle, louder moan. The swimming trunks had slowly made their way to the floor by themselves.
Once at the bottom I got rid of them completely. The wall was gone, behind it was sunshine, warmth, just pleasant feelings and I enjoyed being able to see the world from the other side. At that moment Eva's lips parted from mine, I opened my eyes and with a happy smile and big googly eyes I heard Eva say "Go!". She laughed at me lovingly and I laughed back as lovingly as I could, now free of the blockage.
I kissed her again and kept rubbing my body against hers, my cock against her cunt. Eva penetrated me again with her tongue and we felt each other's bodies again until…. Until Eva suddenly let go of me, stood up, looked at me and said, smiling happily, "Come with me!". She climbed up the edge of the pool, pulled me out of the pool and just stripped off my swimsuit completely. We both stood stark naked.
I also still with my twitching latte that pointed in the direction of Eva's pussy. I don't think anyone could see us. The house was at the end of the street, there was only one neighboring property that was built on and the neighboring house was relatively far away and was completely out of sight because of a small patch of forest on their property. No one was to be seen in the meadows around the rest of the property up to the edge of the forest. Eva turned around and wanted to go into the house.
She presented me with the antlers of the ass over her hot ass. I approached her from behind, put an arm around her and her breasts. With the other hand I first pushed Eva's leg a little on the side, slipped my tail under her from behind, pushed the bar forward under her crevice, pressed it firmly with my palm and began to rock back and forth. Eva threw her head back on my shoulder.
I saw her eyes closed and from her mouth, which was also closed, I heard a "Mmmmmmh. MMMMMMHHH! "Accompanied by deep inhalations and exhalations. I could feel how the wet, watery moisture was slowly being replaced by a sticky and slippery moisture in my crotch and when my glans bumped on the inside of my palm, sticky droplets formed there too, which were stripped off my hand or Eva's hair. Eva opened her eyes, saw me with a serious and demanding look at us and said "I want you! …now!".
Her head lifted and she jumped into the house away from me. I followed her as fast as I could, while the movements in front of me swung my bar left and right like a dowsing rod. I caught up with her at the top of the stairs in front of the bedroom . I grabbed her, turned her around as I stepped into the bedroom and we both fell on the bed. I was half over her and Eva began to smooch me again, grabbed my cock and massaged it with a firm grip.
During this I pressed my knee into her crotch and moved it slightly up and down. After a few seconds Eva increased the movements by moving her pelvis in the right rhythm. The tongues still busy with each other parted our lips and I heard a groan growing louder from Eva's mouth. And I also had to breathe harder and louder. We lay like that for a while, snogging on and on, rolling ourselves to one side and then to the other like a rocking horse.
Until Eva suddenly said "I would like you to lick me Jens. Is that OK? You are also welcome to say what you want, what I should do. Yes?". I kissed her. First on her mouth, then on her bosom and answered her "I want nothing more than licking you Eva. ". I kissed and then sucked her breasts again and ran my hand down her stomach, middle finger first into her column, over her Geilgnubbel away, directly into the slippery crack and into Eva.
"And what should I do for you?" I heard Eva say between the moans. On the way, kissing, from the breasts over the navel down to the hairline on the cunt I stopped briefly and said, "Hmmm. Do not know yet. ". A few things went through my head. Years ago after my best buddy showed me where to watch porn for free on the internet, I had already looked at one or the other, well, actually quite a lot and had some ideas.
But somehow, with everything that came to mind, I always somehow had concerns such as 'doesn't work', 'definitely isn't there', 'you can't ask that of her', 'that's just too extreme', and, and, and … . And actually it's all show anyway. Not really … it occurred to me that there was a movie that I really liked. So actually no porn, rather a private recording that a couple had made of themselves and that had found their way onto the Internet.
Not have fake sex with each other
I liked that. Especially liked. And apart from one little thing, there was nothing special, nothing special about the little film. And precisely because there was nothing special, except that the two did not have fake sex with each other, but just popped together, was exactly that, the special thing about the film. Well and the little thing I could ask Eva about … maybe … sigh. At the moment, however, Eva was busy moaning and breathing heavily.
She was lying in front of me, arching her chest up, pressing her shoulder and bum into the mattress. Arms up next to you in a W-shape, hands clenched into fists, eyes closed and head turned to the side. While thinking about what I would like to have, I reached the surprisingly little hairy crevice over Eva's fur and licked, sucked, and kissed her fiercely … I thought of the porn … I thought of her cunt! Her horny, wet, juicy cunt.
For a long time I had been circling with my tongue pressing strongly at one point. Where was I actually. My tongue felt a little indentation somehow … I was at the end of her piss hole! … … … I was a little horrified at first, of all places, but then I realized that Eva's cunt tasted best there. It didn't taste like piss, it tasted like Eva, but at that point a little bit different like Eva, a little hotter like Eva.
And something else became clear to me. That I played around with my tongue on the hole, pressed it and sometimes indicated with a pointed tongue that Eva had to like it surprisingly well, to penetrate the much too small hole. She alternately pressed her left and right shoulder into bed, threw her head back and forth and moaned like hell, the … the bitch. I want to see her scream. I want her to scream her pleasure at me.
I lick the Schlampenfotze to orgasm. The bitch lay in front of me and pressed my abdomen against me. I rubbed my fingers in her pussy towards the front … of her cunt. Your bitch cunt. And I pressed lightly from the inside against the area that I worked on from the outside with my tongue. If I increased the pressure a little or rubbed it a little faster, Eva pressed herself harder against me. I now knew what I wanted. What I want from Eva … what I want from the horny bitch.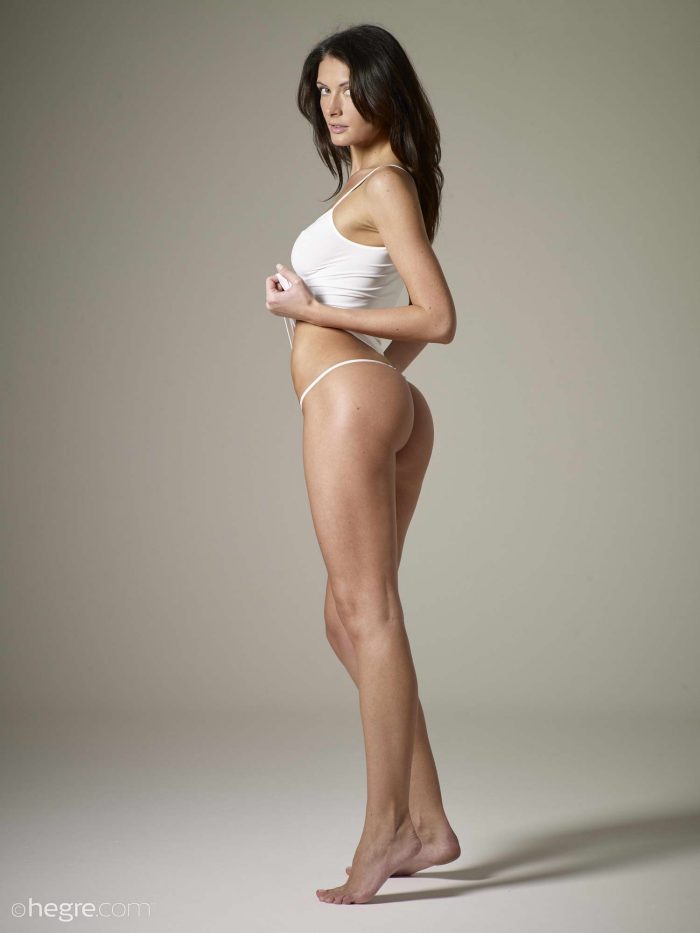 But I didn't want to tell her, not yet. I enjoyed that she lay in front of me moaning. Groaning because I got her really good. Really did well with my tongue and my fingers. Because the old bitch let me plow her cunt and got excited about it. "Wait!" Came suddenly from her mouth. "It's so cool how you do it Jens. You are exactly where I am most easily irritated.
It feels like you're doing nothing else all day, so horny. But I need a drink first, okay? I'll bring you something too. "With that she got up, but I held her and she immediately fell back into bed. "Eva. ". "Yes?". "Eva I …". "Do you know what you would like to have? What should i do for you No, what would I like to do for you? "
"Yes…. "…. "And? Come on, tell me! ". "Eva, I don't really want anything special. But once I saw something that totally turned me on. Really nothing special and I don't even know if you have anything like that, I … ". Eva swung onto me, kissed me for a long time and finally said, "Come on, get out of it and believe me, I've already tried and done a lot. So come on tell me already. ". "Eva, do you have stockings ? So of course you already have stockings, I mean… hold-ups? "I looked at Eva expectantly.
She looked back seriously, almost horrified. At first I was frightened, but then saw a small flash in my eyes, a very slight twitching of the facial muscles and Eva suddenly laughed out lovingly "What color?". We both had to laugh again, and hugged each other, rolled over the bed, kissed each other and only stopped when we were finally hanging with our torsos over the edge of the bed, almost on the floor. I looked at Eva and said "Black?" "Sure I have. But that's not all, is it? "
I looked around the landscape a little bit embarrassed. "So to the stockings, do you have a pair of … shoes?" "High heels?". My eyes suddenly widened "Yes!". "No Jens, unfortunately I have to pass. I once had two pairs, but they are … wait a minute … you go downstairs and get us something to drink from the fridge. There are still soft drinks. I want cherry. Lime is still there if you like. I have an idea … I kissed her again on the mouth, slid back up on the bed, kissed Eva's navel with my tongue, took a deep breath, pressed my mouth to my stomach and blew out everything I had in me.
A wonderfully loud fart-like noise that was almost immediately drowned out by Eva's laughter filled the room. I took Eva's hand and pulled her back up onto the bed as well. "Come on, I'm thirsty!" She finally commanded me from the bedroom and I got up. My hard prick forward, but this time with pride in the beating in front of my chest, I left the room. I could still see Eva getting up and opening a drawer in the dresser, then I was out.
When I got downstairs, I thought you'd take the backpack with you, maybe we still need whiskey or rum after all. Anything cold to mix in is definitely in the fridge. Besides, I've got there too … and maybe, let's see … I sneaked to the balcony door, stuck my head out briefly, saw no one and quickly tripped over the hot stones to the chair, grabbed the backpack and quickly tripped back again. Then I went to the fridge and took out two alcopops.
Once a cherry and once… a cherry. I hadn't tried it yet. At some point you have to try, if you have the opportunity, I still thought … and then I thought of the wall that no longer existed, Eva, which I found behind it. Or how she pulled me over it? And like her … and I started up the stairs again, came around the corner at the door frame into the bedroom and saw Eva. With your back to me, sit on the edge of the bed on the other side of the bed.
She straightened up, straightening her stockings. I saw the hot back. Her shoulder blades were free, her long hair hung around her neck over her left shoulder and forward. The body, which became narrower towards the waist, in order to become wider again in a gentle curve and gave Eva's beautiful ass antlers exactly the framework to really come into its own. Including the hot ass with its plump cheeks and the crack that began under the antlers and continued down to the bedspread, getting deeper and deeper.
Eva turned her head over her right shoulder to me and smiled at me. I had already put the backpack down, stood there and looked somehow absent-mindedly in Eva's direction. Looked into Eva's bright gray-blue eyes. And just saw … you can't put into words what it was, what it triggered in my body … it was just beautiful, relaxed and informal, warm and soft … and damn erotic complemented the feeling that came out of my boner radiated into my body … maybe when you fall into a cloud, so the way you imagine falling into a cloud, so a really cool cloud ….
"Hey … now, I am thirsty Jens!", Eva's voice brought me back to reality in the bedroom in which I had just licked it. In whatever happened between us. I hadn't noticed but Eva held out her arm to me and I finally gave her the bottle. She took a sip. Then another. Then she set the bottle down on the bedside table.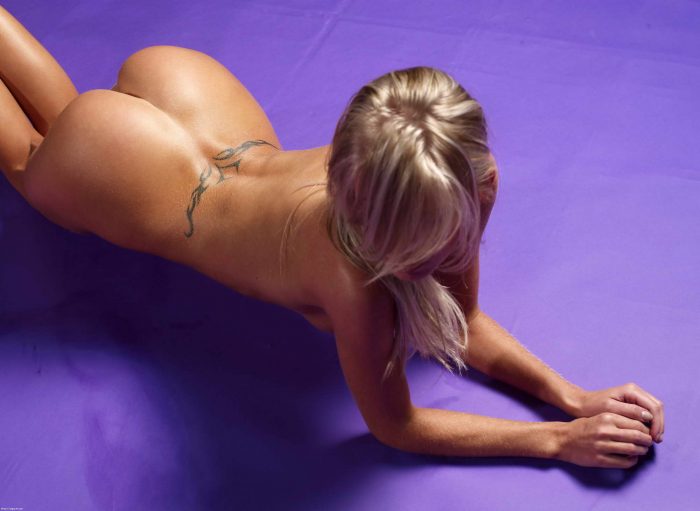 Started the CD player on the dresser and turned back to me. The music began to play softly. Guitar, a very simple intro and when the singer began "Wake up now and start to dream … Hot nights wash away my fear … Forever now …" … I knew, Jonah, "all we are". Eva turned on the bed, crossed her knees, turned her body towards me, propped her head on her elbows, she lay in front of me. At the top of her great wide thighs I could see the waistband of a hold-up stocking.
A black waistband each, high up where her step left off, encircled the thighs, then after five or seven centimeters in the stocking they merged into the very dark gray stocking, the stockings were quite opaque, a wonderful contrast to Eva's slightly tanned complexion, the her body had. I could already see on one foot that Eva was wearing pumps. High heels at the back and a high platform at the front too. Black and shiny and round at the front.
She looked razor-sharp in it. Somehow I had the feeling that I knew her from somewhere, but it didn't matter. Eva looked super horny in it. Then she rolled over on her back and pushed herself into the middle of the bed, spread her legs wide apart, the heels of her pumps in the mattress and, looking invitingly, held out both arms towards me with open hands. From the loudspeakers of the stereo system came a pleasantly loud, saturated sound like "All….
we… are……. and all we are! We are just like oxygen and all… we… are…… and all we are, dancing like we never danced before! "I crawled into bed on my knees until I reached the point where I could lay on her so that our heads would be level. While I slowly lay on my arms leaning on Eva, she grabbed my concrete-hard … Fickprügel and steered it right into her horny … Fickspalte.