Individual elements shown braided, a lot of black in various shades of gray, but sometimes also purple elements and … golden stripes. Especially the parts that represent the braided elements looked just great. The whole thing went really well with the swimsuit in terms of color and it went really well with Eva's hot ass. Eva's figure was the classic female figure you know from textbooks … narrow waist, wide hips. Not fat, but, what is it always called, willing to give birth.
My pants became tight again and when Eva turned around I quickly bent my right leg and put it on the seat of my chair so that Eva couldn't see that I had got a lump down there. She took her beer, I grabbed mine. "So, first of all, 'tightness'!" She said and clinked glasses with me. I replied. We both took a big swig. The beer tasted wonderful, dry and cool, refreshing and I watched Eva afterwards as she first sat down on the couch and then turned to the side and made herself comfortable.
She also bent her leg to the right, which made sure that the beach towel was pulled up and reveals her crotch. A hair or two in this area to the left and right of the swimsuit told me that Eva should maybe pick up the razor again. From these thoughts and from the thought that the pants were still tight, maybe even a little more, I was torn out when Eva suddenly burped violently.
She looked at me, pinched her lips briefly and almost at the same time we both had to laugh. I wished, well, not necessarily to have a mother like that, I rather wished that I could live with a family that is like Eva and Fenna than my parents. They were more of the type, we go to the basement to laugh. Actually it wasn't a real family because Fenna's father moved back to Rotterdam after the divorce, but maybe that was exactly what made life here different, that this was the realm of two women and the clocks tick differently.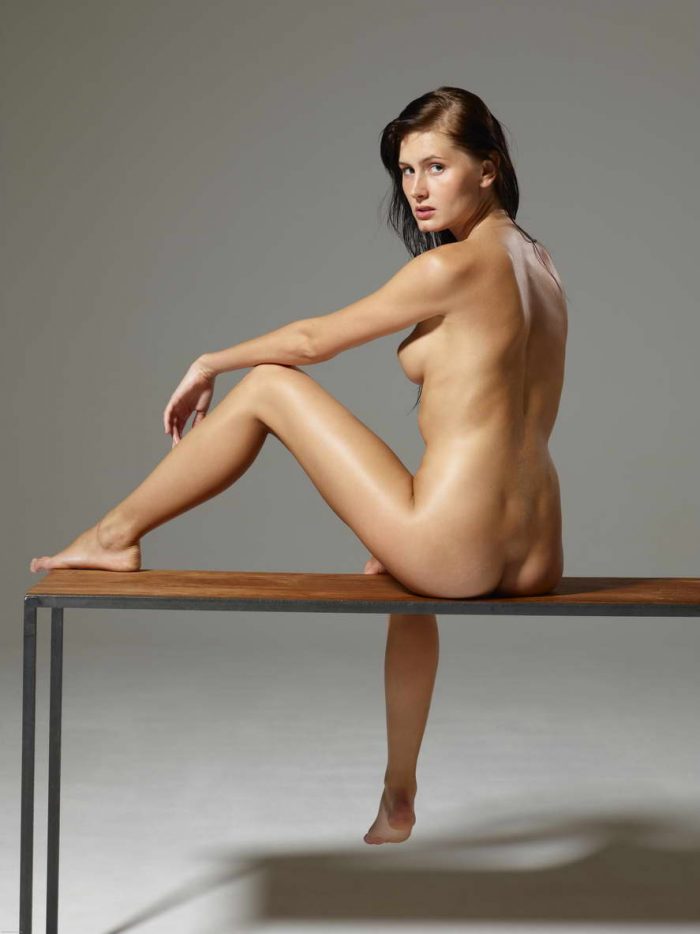 Completely different. "So the party" began Eva. "I've seen it. So now I've seen it. "I replied. I explained my mistake to Eva and she had to laugh again. This time while swallowing, she was soaked in with beer afterwards and we both had to laugh again. The swimsuit, however, revealed its little secret. Where it got wet, it became much darker and, above all, semi-transparent. There were a few bigger splashes over her stomach and the swimsuit seemed to be stuck to Eva there.
Eva's left chest was hit hard. The fabric stuck to her and the nipple was clearly visible. Probably because of the cold of the beer, the nipple got bigger again bit by bit. While my eyes were still roaming over her damp spots, Eva said, "If you're already there, we'll have a little party just for the two of us. ". The rum and whiskey would last until next Saturday, she said, "But you can throw the meat away if you don't grill it today.
Fire up the grill, I've got something in the fridge for me and a little salad for both of us. ". She got up and went back inside. I looked after her and saw her bottom, which was wiggling back and forth nicely with every step that Eva took. Must be the family, I thought to myself, looked down and looked at my bulge in the tight pants and then thought, and my reaction to it too.
The grill worked, Eva had got four skewers, some pickled peppers, a couple of large pickled onion slices, and I put my three steaks on the grill. The grill was doing its job. By now we had each reached the second bottle of beer when Eva suggested going into the pool until the meat and vegetables are done. Shit … and shit again. My swimming trunks and the towel were where? Right. Real shit! Curled up at home with a sleeping bag and air mattress.
But even if I did, I was afraid that Eva would have seen if I got a tough guy when I stood in front of her. "I can't Eva, I don't have my bathing suit with me!" I explained to her and why and where it is. She laughed again and went back inside. I didn't understand what she actually wanted now, but I had to look at my butt again carefully as she walked away. I was checking the meat and vegetables when she came back with swim shorts in one hand and a towel in the other.
"There, it's from my husband. It's much too big for you, but it has cords on the waistband, so you can tie it up! ". I still didn't want to, defended myself with hands and feet, argued, argued, lazy, and started sweating again. Suddenly I got a push from Eva. Unbeknownst to me, she had maneuvered me more and more towards the edge of the pool. And then, when I was in the right position, I just struck.
First I swallowed some water and had to orientate myself. Then came back upstairs and heard and saw Eva laughing, bent over, hands on her knees, she laughed at me. Or did she laugh at me. I dont know. She laughed, just laughed with all her heart. Well wait, I thought we'd sit a while longer, you'll get your fat off today too. I climbed out of the pool again and swore, but not without splashing a lot of water in the direction of Eva.
The swimsuit, which had meanwhile dried up again, was now really wet. Eve stood almost as God made her … how God made her? Eva? It fit … The swimsuit, now sticking really skin-tight on her body, depicting both breasts in full splendor, each with a small firm stump in the middle. The navel was a little darker than the rest of the wet fabric and in the triangle between Eva's legs a clearly darker area emerged, which indicated a fur over Eva's mumu.
I finally stood upstairs, bent over trying to squeeze the water out of my pants, and then I felt two hands that? Right, put me right back where I came from. Only when I came to the air again this time, I was greeted by another huge gush of water, as Eva had put a perfect ass bomb next to me. Coughing and swallowing water, half blind, I splashed water in their direction as best I could. With my hands and feet and with the Frisbee that I was floating on the water, I could grab it.
You in mine as well. When I tried to grab her, I slipped my feet and when I was under water, reflexively held on to Eva. I'm not a good diver, I have trouble holding my breath, and I have trouble keeping my eyes open underwater. But in my hand I clearly felt the strap on Eva's swimsuit that connected the back of the panties to the front, still, or rather repeatedly swallowing water, I waved my other hand wildly around until it finally found a hold on something .
I pulled myself up again and opened my eyes again. That something was Eva's neckline, which I had pulled so hard that I was almost greeted by one of her breasts. Eva laughed and laughed. I was embarrassed and my boner down there had to go through 'agony' in the wet, tight-fitting pants. "Typical man, boy! Don't waste any time and go straight to your destination. ". There was this briefly again, it would be nice to be able to deal with each other so easily every day and in every situation, not like at home.
But my view, which I enjoyed, made sure that my thoughts immediately focused on Eva's chest again. The horny column that Eva's breasts formed when they came closer and closer to each other and generally closer to the eyes of the beholder. The great nipples and the huge, now clearly visible, aureolas around them. But then of course I let go. Eva looked down, stretched her chest out towards me, and straightened her swimsuit a little.
When she pulled him forward for a moment, I was able to admire almost all of the splendor of her tits for a very short moment. And this splendor was just awesome! "Come on Jens. Finally put on your swimming trunks. I'll have a look at the grill. "She said casually, and after a short pause added" … and stop staring at my tits! ". Caught and turned in shame, I looked down briefly and then up again. "And not on my bum either if I climb out now!" Added Eva, laughing out loud again.
I turned and pushed myself out of the pool. Fortunately, Eva couldn't see the bulge in my pants. With the picture of Eva's tits and ass, Stand slowly pushed itself into my waistband. Eva followed me and went to the grill and took care of our food. I thought about where to change, because soaking wet as I was, I didn't want to walk across the apartment to the bathroom.